ALITALIA AZ319 RACIAL DISCRIMINATION!!!
作者:毛毛卷 日期:2009-12-24 13:23:12
Passengers: Wang Hengzhi, Yang Zhenchuan, Zhu Liangfeng, Huang Lingmei, Huang Jie
Guide: Ling Weihua
Contact Number: 86 21 64196386
Address: Rm. 302, No. 2, Zone 14, 3333 Qixin Rd., Minhang District, Shanghai, P. R. China
Dec. 24, 2009
The Honored Chairman of Alitalia Mr. Roberto Colaninno and CEO Mr. Rocco Sabelli,
As a member of the 42-member tour group of China International Travel Service, I took AZ319 flight of your airlines from Paris to Rome at 10 o'clock on Nov. 6 2009. During this flight, I received unequal treatment with serious racial discrimination from your airlines' flight attendants. I here in forth put forward solemn protest against this treatment.
Having entered normal cruise phase, the attendants of this flight did not start the normal service as usual. After a long time chatting, the flight attendants began to provide drinks and food to the passengers. But during the service, I found that they treated the passengers in different ways, providing drinks and food to some passengers and to others only after their reminding. In one hand, they would satisfy the demand of European passengers, including food, beverages, and alcohols, without reservations, and in the other hand, they ignored, even turned a blind eye to the Chinese passengers of our tour group. For example, a lady one row in front of me was deliberately ignored during the service of food and drinks, and I was subjected to the same treatment – the flight attendant went away without asking me if I need anything and without giving me anything. At that time, many people of our group put forward complaints. Since there were some difficulties in language communication, our tour guide carried out a friendly negotiation with the flight attendants on behalf of our group, raising our opinion that what they had done was a kind of deliberately incorrect attitude. To our disappointment, they treated our complaint rudely, and would not say sorry. The purser even wanted to cover up the facts with a bottle of bubble wine, which was a very unfriendly deed. We would not accept this reaction, deeming that this was serious racial discrimination to us, and would bring bad influence to your airlines.
Finally, under our repeated requests, the purser unwillingly gave us a complaint form, and we handed in this form according to relative procedures, requiring for formal and written reply.
It has been seven weeks from then, but unfortunately we did not receive any phone calls or written reply from your airlines. We don't know if your airlines has certain reply and handling time limit to any complaints. We are so disappointed, and we here in forth put forward our requirements a second time:
Firstly, we strongly object to the unfriendly behavior of the attendants of this flight, which we deem as serious racial discrimination to Chinese passengers;
Secondly, we regret this kind of deliberately rude behavior of the attendants of this flight, which we resolutely can't accept;
Thirdly, we deem that the attendants of this flight do not possess the basic qualities and requisites as flight attendants, and the purser does not possess the basic qualities and requisites as a purser. They are not competent for the current job.
Fourthly, we deem that this event harmed your airlines' international image. Your airlines should enhance profession training to flight attendants, asking them to provide same warm service to any passengers with any nationalities, which would embody your airlines' service level and personnel quality.
Fifthly, we once again urge that your airlines will give us a written reply soon, and will give punishments to relative personnel.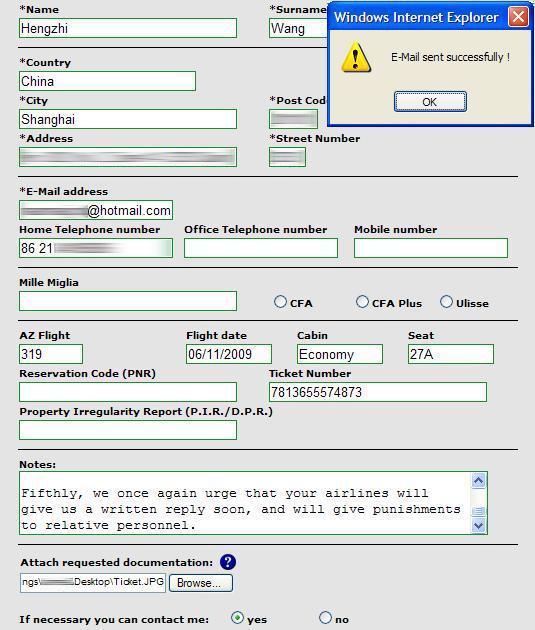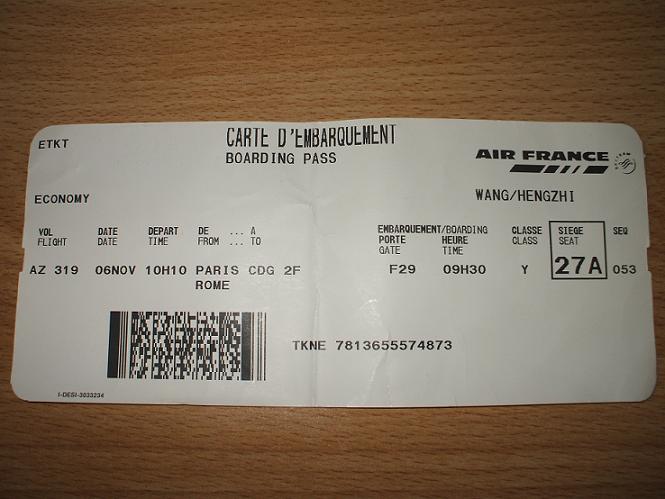 评论: 0 | 引用: 0 | 查看次数: 20482